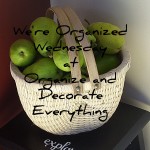 I had been planning to do each of the weekly challenges over at
Bowl Full of Lemons
. I needed a jump start to cleaning out and getting organized, but last week and this week were not really hot spots for me (digital picture files and budget). What I mean is they were areas that are all ready organized, and I have good system in place. I wanted to keep the momentum going so I decided to clean out the kid's bathroom closet. It has been a frustration for me for a while. I am sure you will agree it was time.
Before
I started by taking everything out and giving the shelves a good cleaning.
Then I only put back what we needed to keep. I got rid of old medicine, worn out towels, and never used items. I relocated a few items that just didn't work in the closet or had been put there by mistake.
I found the monkey, brown, and polka dot canvas boxes on sale at Babies R Us. I had the green one from Target and it was not being used anymore. The closet has half shelves and not much can actually fit on them. I decided to put the kids bath pictures on the one they can see when they get out their towels. The door was missing from the closet when we moved in. We eventually want to do a complete overhaul on this bathroom, but we needed a simple solution for now. My mom had the idea to make a cute curtain from matching bath towels. They are just hanging from tension curtain rods.
Here is the after as it appears with the curtains closed.
I am really happy with how it turned out. When we moved in I had a three year old and a one year old. We had to paint almost every room and replace lots of flooring. I was exhausted by the time we were putting our stuff away. So much of the clutter I struggle with is just because things were not put away efficiently to start with. It feels so good to finally get rid of unwanted stuff.